Hindu Temples in London for Lord Hanuman Darshan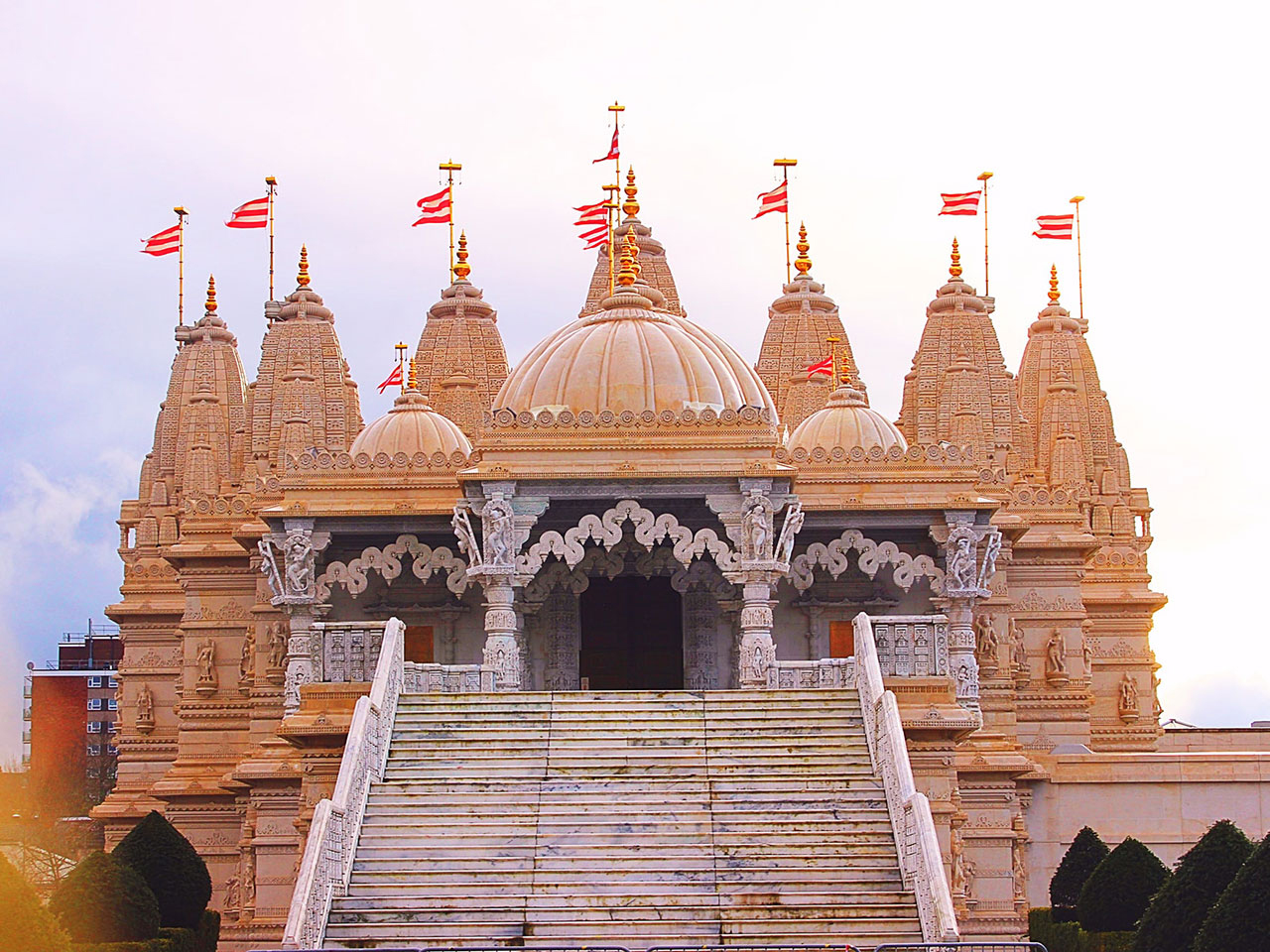 Hindu temples in London, Leicester or wherever else in the world are not just places of worship for Hindus (followers of Sanatana Dharma). They are places of spiritual development through devotion and story telling, divinity, community, peace and meditation.
You'll be able to get Lord Hanuman's darshan at any one of these wonderful Hindu temples in London, and the rest of the UK.
I'll be covering and listing the variety of Hindu temples in London and other parts of the UK, including Hindu temples in Leicester, in quite some detail.
The list will be regularly updated as time goes on, so don't worry if you don't see all the Hindu Temples in UK listed in this post.
What is a Hindu Temple (Mandir)?
A Hindu temple is known as a "Mandir", a Sanskrit and Hindi word, to Hindus.
Hindu Mandirs are retreats for devotees wishing to spend time with God, learn about their ancient culture, teachings, traditions and stories about God's many avatars here on earth to develop spirituality, and to get away from their daily rat-race and materialistic lives.
Idols of Lord Hanuman and Lord Ganesh can usually be found at the entrances of any Hindu temple as they are regarded as very auspicious to many Hindus.
A place for the community to gather and celebrate the many variety of Hindu festivals, peace of mind and sometimes, sanctuary from troubles in life.
Hindu temples are also, quite often, architectural wonders which stand out in the landscape they're in, whether that's in London, Leicester or anywhere else in the world.
Hindu temple architecture and incredibly detailed craftsmanship goes back thousands of years that's why you can notice many of these beautiful wonders in India, other parts of South East Asia, Europe and America.
As spirituality and science are regarded as one in Hinduism, many temples (and homes) are built with ancient scientific knowledge, known as Vastu Shastra, an ancient guide that brings positivity according to the science of direction and positioning.
Hindu Temples in London
1. BAPS Shri Swaminarayan Mandir, London
BAPS Shri Swaminarayan Mandir is a beautiful, traditional Hindu temple, carved entirely out of stone, in Neasden (Wembley), London, England.
Inaugurated in 1995, it is built entirely using traditional Indian carving methods and materials, the Swaminarayan Mandir is carved completely out of Indian and Italian marble and Bulgarian limestone by highly skilled Indian craftsman.
I have been there many times, even when it was inaugurated. I love the tranquility, peace of mind and the silence you experience within it.
The Abhishek Mandap and the main Mandir are ideal for meditation and chanting mantras and prayers. Background meditation music and Swaminarayan mantra chants can sometimes be heard in the Mandaps of the mandir.
A truly peaceful and divine experience.
Lord Hanuman Darshan
As mentioned earlier idols of Lord Hanuman and Lord Ganesh can usually be found at the entrances of any Hindu temple as they are regarded as very auspicious to many Hindus.
Lord Shiva's Shivling (shown above) can usually be found at many traditional Hindu temples. Lord Shiva is the father of Lord Ganesh.
Shri Swaminarayan Bhagwan
Shri Swaminarayan Bhagwan, in the Maha-Mandap, is the main deity of this Mandir. Everyday he is beautifully dressed with wonderful and vibrant, colourful clothes.
One of the things I really love about this Wembley Hindu temple is that it is driven by the Hindu community, for the wider community, regardless of race, religion and caste. A place where you really do feel part of the community and openness of the Hindu dharma.
Understanding Hinduism Exhibition
This beautifully presented exhibition shows the origins, growth and beliefs of Hinduism (also known as Sanatana Dharma meaning 'Eternal Duty').
Showing the importance of Hindu values and principles in the past, present and future for the benefit of the individual, society and the world, as well as stories and teachings about Shri Swaminarayan Bhagwan and the Swaminarayan Sampradaya.
I loved it and so will you! 🙂
Phone: 020 8965 2651
Address: 105-119 Brentfield Road, London, NW10 8LD
Neasden Temple Parking: Plenty of Car Parking spaces available opposite the Mandir
Facilities: Vegetarian restaurant, grocery and sweet shop are located opposite the Mandir near to the main Car Park
Opening Hours: 9am-6pm, Seven days a week (may vary during some Hindu festivals and public Bank holidays)
Entry Fee: 100% Free, and you can also visit the Understanding Hinduism exhibition (details above) for a small fee of £2 for historical facts about Hinduism. Do check it out!