Hanuman Chalisa 108 Times (Best Hanuman Mantra to Cure Diseases)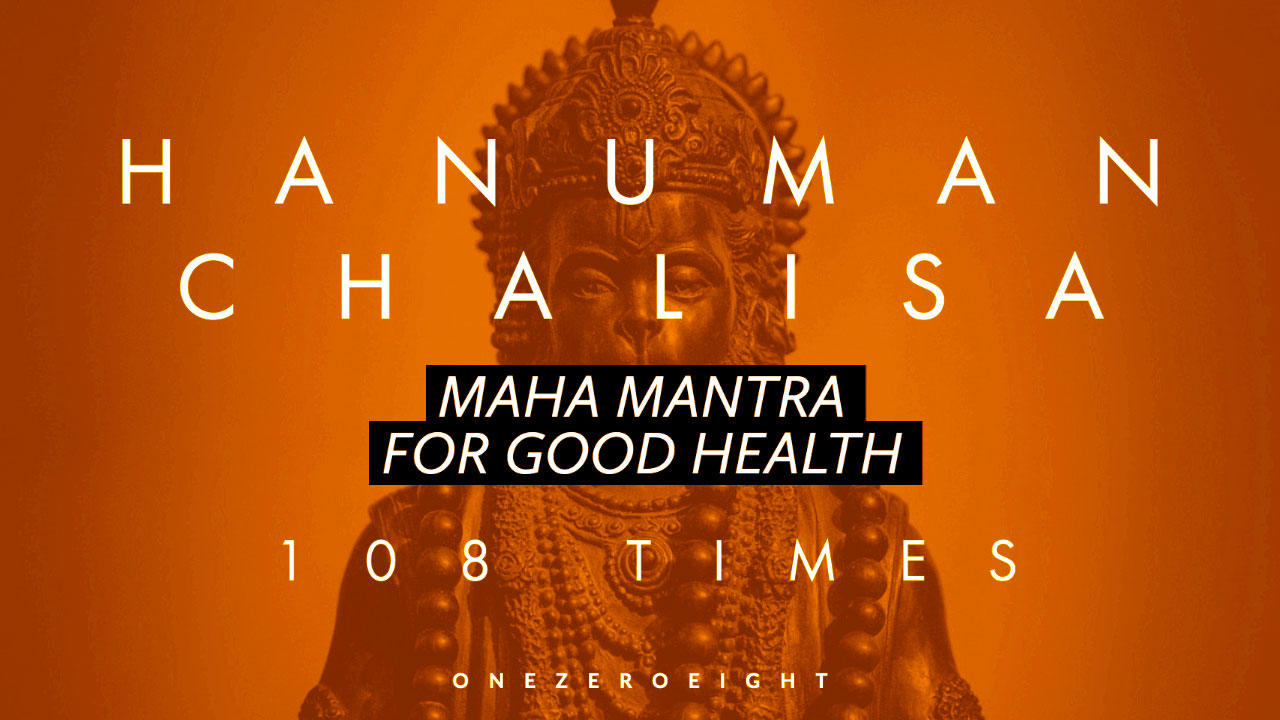 Hanuman Chalisa 108 Times – This is the best Hanuman mantra for good health and to cure diseases. The mantra is a chaupai from the Hanuman Chalisa: NASE ROG HARE SAB PEERA, JAPAT NIRANTAR HANUMAT BEERA (नासै रोग हरे सब पीरा जपत निरंतर हनुमत बीरा) – repeated 108 Times for success. This secret mantra of Hanuman simply means: "Diseases will be ended, all pains will be gone, when a devotee continuously repeats Hanuman the brave's name."
"NASE ROG HARE SAB PEERA,
JAPAT NIRANTAR HANUMAT BEERA."

Chaupai 25 – Hanuman Chalisa
Hanuman Chalisa 108 Times – Best Hanuman Mantra Video for Good Health and Curing Diseases
You can also SUBSCRIBE to the ONEZEROEIGHT YouTube channel if you want.
If you are suffering from ill-health, chanting these Hanuman Chalisa lines for 108 times, facing the East direction, preferably before or during sunrise, will help cure any diseases, give protection, helping you get well sooner and recover from your sickness.
According to a follower of Neem Karoli Baba (the famous Hanuman devotee), facing the East before or during sunrise, chanting the complete Hanuman Chalisa 7 times in front of Lord Hanuman's idol or photo every Tuesday and/or Saturday will take away all your health problems.
You can also light an oil diya and offer some dry chickpeas (Sukha Chana as shown in the video above) as an offering to Lord Hanuman.
Notice the beautiful sunrise in the background whilst you chant this powerful and secret Hanuman mantra! 🙂
"Every line of the Hanuman Chalisa is a Maha Mantra"

Neem Karoli Baba
PLEASE NOTE: Along with chanting this secret Hanuman Chalisa mantra, you also need to use common sense and do your KARMA by seeing a Doctor for any serious conditions, problems or diseases as chanting mantras alone cannot help. I do not offer any medical advice on this website.
A combination of Belief and Faith in Lord Hanuman, some patience, and professional medical advice or treatment will surely help your recover faster and cure health problems.
Best of LUCK and I PRAY for your full recovery and a HEALTHY LIFE! 🙂
You can also SUBSCRIBE to the ONEZEROEIGHT YouTube channel if you want.